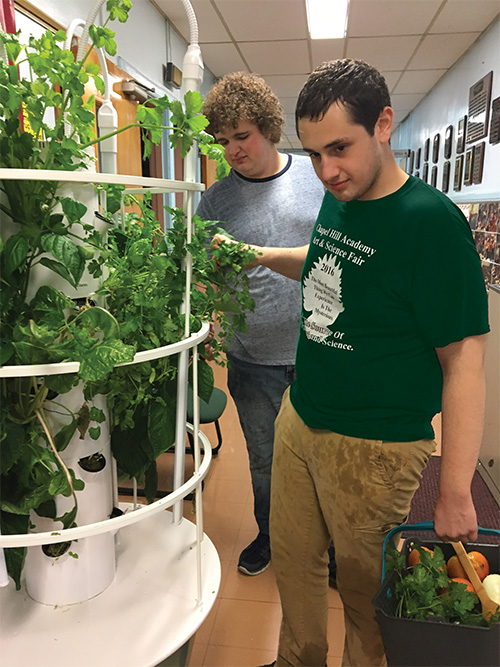 The students in biology classes at Chapel Hill Academy are not only learning biology, but also important life lessons as they grow and prepare their own food. Tammy Perkins, the biology teacher, received her Master Gardening certification and is bringing her passion and knowledge to her students through the new hydroponic gardening towers.
Last April, the Health Department of Lincoln Park received a grant as part of NJ Healthy Communities Network to purchase hydroponic towers. Chapel Hill Academy received two of these towers, which students helped to construct and continue to maintain. Hydroponic gardening is a form of indoor gardening where plants are grown year round without soil. The towers are an addition to the existing outdoor raised garden beds, which have supplied pumpkins, zucchini, broccoli, cucumbers, eggplants, and herbs.
"Gardening used to require an outdoor space and was limited by season and weather, but this is no longer the case. Hydroponic systems allow our students to enjoy the benefits of gardening all year and in any kind of weather," said Ms. Perkins.
Hands-on lessons teach students the requirements of water and light for the plants, the importance of pH and macronutrients, the different parts of the plants that provide nutrition for the human body, the different types of flowers and the challenge of indoor pollination and insect control, to name a few. Gardening is experimental, so after trying to grow a number of vegetables, the students have already learned that the hydroponic towers are better for growing leafy vegetables such as kale, herbs and lettuces since they do not need to cross pollinate.
In addition to the excitement of monitoring the vegetables as they emerge and grow, the students work collectively to harvest the vegetables, follow recipes to cook them, and then finally eat them. Sometimes the vegetables are a variety the students are trying for the first time.
"It is exciting to have the opportunity to connect students with healthy food that they have grown themselves. They are socializing and sharing in this wonderful experience while learning important social skills, collaboration, healthy eating, and of course, biology. The benefits of gardening and connecting with nature are proven to reduce anxiety and negative feelings and I see it with my students," said Ms. Perkins.
This winter, while the school's butterfly waystation is void of swirling butterflies and the outdoor raised garden beds are covered under snow, students in Ms. Perkins' biology classes will continue to grow nutritious food and enjoy warm meals together.