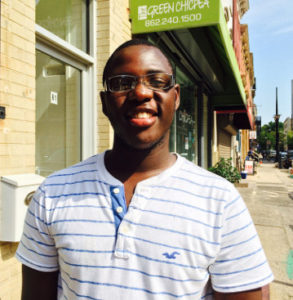 At Chapel Hill, Josh Yogo '15 learned to help others by helping himself.
As a teenager, he learned quickly that the best way to help others address attention deficit hyperactivity disorder (ADHD) was to discuss his own experience with the condition and how he learned to manage this common neurobehavioral disorder.
Having recently completed NJPAC's Summer Youth Performance Workshop — a five-week intensive arts training program in musical theater, vocal performance, acting or modern dance for students ages 13 to 18 — Josh not only sees a future in music theory, but also as a key component to creating bonds with children with disabilities.
And Yogo pointed to his student upbringing at Chapel Hill Academy as central to helping others as well as teaching him to help himself along the way.
Chapel Hill helped me really become the person I was inside. They helped me understand what I wanted to do. The value of that is immeasurable.
"One of my mentees was so gifted when it comes to music and getting things done. I've known him for seven years now to be part of his development has been wonderful beyond words," Yogo said. "I wouldn't have been able to be part of his life had it not been for the support I received here."
A member of Chapel Hill's Class of 2015, Josh will head to Essex County College this fall to study Early Childhood Education and Music Theory. He defines helping others both as a "calling and a blessing" and plans on taking his Associate degree from Essex County College to Montclair State University, where he will continue his studies.
"When it comes to kids with disabilities, I can relate to them and I can help as only I can, having faced the same challenges growing up," he said.
"Every child I've mentored requires establishing a bond — you can't force that relationship," he said. "You have to find out their likes and dislikes and see you can relate."
Music, he adds, provides a "very big connection."
"The arts provide a real way to connect with people," he said. "Whether it's about being stressed, or academics, or even their home life, the arts allow you to create a bond—it's a universal connection."
Among Yogo's recent accomplishments includes receiving the 2015 VSA Arts Achievement Award, the Governor's Award in Arts Education for Vocal Performance, an ASAH – Connections for Success Scholarship, the AME Church Scholarship for Community Involvement, and the Chapel Hill Academy Annual Scholarship Award.
His experience at Chapel Hill Academy will help him throughout his collegiate and professional careers, Josh said, adding that he will continue to give back to his alma mater whenever possible.